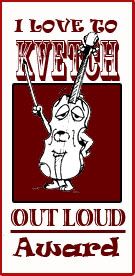 Welcome to the Group Tequila Bender edition of the "I Love to Kvetch Out Loud" awards. There are a series of blenders lined up against the counter, mixes and frozen berries on the table, and several bottles of tequila and Triple Sec. There's a bag of limes. And here are the tortilla chips. Dig in and hang on, everyone. It was a really, really bad week at the whiners' ball.
The "Whine of Substance" awards for this week go to....
****PPB**** who's afraid she didn't get a job that she really, really wants. And she's so over and done with the job she currently has. She's
tired, and defeated
, and we can't possibly give her enough virtual hugs. We love you, PPB!
****
New Kid on the Hallway
**** who is flying down to be with her
father in the ICU
. His prognosis is poor. Thinking of you and your family, New Kid.

****Margalit
**** whose son came back from the hospital with his bipolar disease under
worse control
than it was when he went in. We hope things improve for him and you soon.
****
Styleygeek
**** whose mother has just been
diagnosed with cancer
, and whose university is giving her a hard time about taking a few weeks' leave to be at her side. Hugs to you, Styleygeek, and best wishes to your mom.
****kathy a**** whose son
lost a tooth
in an anti-gay attack at a music show. I don't even know what to say, kathy. I hope he's doing OK, and things at work are better. Hugs!
****
That Mommy
**** who had
both her girls in the hospital
earlier this week. I hope Daughter #1 is recovering quickly from the insertion of the feeding tube, and I hope Daughter #2 is cleared to come home soon. Hugs from all of us.

****DaniGirl
and
Uccellina
**** both of whom were
suckered
by
hope
this week. We're so, so sorry!
****
Devilmacdawg
**** who can't risk having her
depression
treated if she ever wants to work as a lawyer in her state again. That's just outrageous! Hugs to you, DMD!
****ttulizzy**** whose grandfather has been
diagnosed with terminal cancer
. Welcome to the whiners' ball,
ttulizzy
, and we're sorry that such sad news brought you here.
****Marie and Camera Obscura**** Bomb threats. Oy.
And ****
KLee
**** who feels like she's losing her
sweet baby girl
to an early-adolescent version of Mean Girls.
Is everyone still with us? Here are some boxes of tissues, and (of course) more tequila while we stagger on. The "Most Stylish Whine" award goes to....
****
Yankee T.
**** who wins some sort of lifetime achievement award for the first of her two haikus on the joys of
oppositional defiance disorder
. Hugs to y'all, Yankee!
Also another lifetime achievement award to ****Madeleine**** for
voting in haiku
.
I think maybe we'd better bring in some chocolate before we move on to the round-up portion of the program. What's your pleasure, whiners? Brownies? Chocolate cake? Truffles? Or just straight out of the wrapper?
Sympathy and hugs to everyone who's got current or continuing ankle problems; anyone who's got allergic reactions in places that make one suspect one's spouse of cheating; anyone who's not sure if they have allergies or strep throat; anyone who's been single-parenting with only a violent cheese grater for company; anyone who is singing another round of Sleepers Wake; anyone whose daily childcare ballet is thrown into turmoil by a child's fever; anyone who is witnessing friends struggle with Alzheimer's; anyone who's just been sent for x-rays; anyone who's been struggling with low points and the perils of blogdrift; anyone who hates her son's teacher; anyone who has to share oxygen with the Program's Prodigy; anyone whose finances had a stroke upon the assessment of a new house's most pressing repair needs; anyone who had to sit through abusive committee meetings; anyone who's having job-interview anxiety; anyone with a stupid defective finger; anyone who fears her crazy busyness and attendant inattention to the blogosphere will mean that her online social/friendship network will forget her (never!); anyone who didn't even get one measly box of Russell Stover's or something for Administrative Assistant Day; anyone with morning sickness, PMS, or poorly placed zits; anyone with paperwork, busy work, or high-stakes exams; anyone whose only anti-whine is that she has a month in between moves; anyone whose home-buying plans just hit a damp patch; anyone with weight-loss struggles; and anyone who just gave up dairy and chocolate in service of teh sacred MILK. Hugs all around!
A moment of silence, please, for
K.
and her
terrifying whine
about having to sign something promising not to read non-work-related blogs while at work. That is the sort of policy that could lead to the extinction of the whiners' ball. Oh, the humanity!
Also, our prestigious "Remembering What It's All About" award to
KathyR
(who also wins an "Elevated Risk of Mullet" award for suggesting the Group Tequila Bender) for a
late night encounter with the door of a hotel bathroom
. Ow. That's a pain that's gonna linger.
Our best wishes to Elizabeth's mom (who's just been listed for a liver transplant), and Quinn's grandma-in-law (who just broke her hip). Lisa is requesting more pet sacrifices on behalf of her husband's chances at a job he would really like. Apologies to anyone who's been left out, and hugs all around. Everyone hang in there this week, OK? Consider this thread open all week to anyone who needs someplace to whine between now and next Wednesday.